Gun Owners of America Presents the
Independence Day AR-15 Sweepstakes
This July 4, Gun Owners of America wants you to celebrate Independence Day in style.
So we're GIVING AWAY an AR-15, the firearm that Obama can't wait to ban.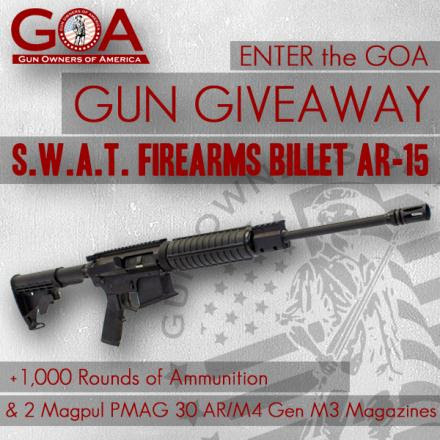 What better way to mark our nation's independence than offering up a modern day musket?
If the Founders were around today, you can bet they'd have rifles like these in their closets.
In addition to the S.W.A.T. Firearms Billet AR-15, valued at $1,375, the winner will also receive 1,000 rounds of ammunition, two Magpul PMAG 30 AR/M4 Gen M3 magazines, and a rifle case.
This sweepstakes will drive liberals crazy, so enter HERE today!
Entries must be received by 11:59 PM EST on Thursday, July 3rd, 2014
. There is NO COST to enter. Click Here Now.